Bringing Families Home Success Stories
This June, funding for the Bringing Families Home (BFH) program is set to end given its one-time, demonstration status. Bringing Families Home provides housing assistance and support for families involved in the child welfare system. Too many families that could safely stay together languish in foster care solely because of their inability to obtain safe and affordable housing; Bringing Families Home is the answer for these families. Twelve counties are currently participating in the program and have been seeing great success reuniting families at risk of, or experiencing, homelessness and helping them find permanent housing. BFH also helps some families avoid foster care altogether.
Our organization along with California State Association of Counties, the Corporation for Supportive Housing, and Housing California are urging support for a one-time $25 million General Fund appropriation for the next two fiscal years to continue and expand this fantastic program. Click here to read the full budget memo on BFH.
Below are true success stories of how BFH funding helped house families experiencing homelessness in Santa Cruz, Sacramento and LA Counties, while the Department of Children & Family Services helped the parents solve other issues that put their children at risk.
SANTA CRUZ SUCCESS STORY:
Since Sara arrived in California from Oaxaca, Mexico 14 years ago, she has stayed with different acquaintances, rented rooms in houses and moved from place to place, often taken advantage of financially. Just over a year ago, Sara's four children were removed from her care due to concerns for her children's safety that Sara could not completely address on her own. After child welfare worked with Sara to address her barriers to appropriately care for her children, the last thing Sara struggled with was safe, permanent housing for them. Yet, time was running out before her children were permanently adopted, so Sara was enrolled in Bringing Families Home. Her social worker was able to help with Sara's language barriers to get applications filled out and go to showings to see housing options and ask questions. Earlier this year the BFH program secured Sara housing and she and her children were reunited. Now that her family has found permanent housing, her children are able to thrive in the same school district and have higher education aspirations.
SACRAMENTO SUCCESS STORIES
Sam, a father of 4 children was receiving and participating in family reunification services and was ready to reunify with his kids, except he needed safe housing. Sam was enrolled in BFH and within days, his child welfare social worker was able to identify housing that fit the family size and at a price he could afford. His social workers were able to use BFH funds for move-in costs and Sam began receiving extended visits with his children almost immediately after move-in. Sam's children were returned to live with him in their new home at the next hearing.
Jane was pregnant and her four children were homeless and living in their car when she came into contact with the child welfare services. Jane was a loving parent, and while there were some concerns for her children's safety, the county determined that the children should remain with Jane with supports and services that could be provided through the family maintenance program. One barrier for Jane was lack of housing, and Jane had tried to find housing for months on her own without success. She was so concerned for her children's well-being and frustrated that she had spoken to her CPS social worker about having the children enter the foster care system as a result of lack of housing. Jane was then enrolled in BFH and the program identified appropriate housing that her family moved into. This intervention supported stabilizing the basic needs of the family and Jane was able to provide for her children creating a safe place for them that avoided foster care placement for her children
LOS ANGELES SUCCESS STORY:
For three years Ms. C. was forced to take her children to different shelters in Los Angeles in order to keep them from sleeping on the streets. During that time, she was struggling to properly protect her children and parent them appropriately and LA County Department of Child and Family Services (DCFS) became involved in her case. Ms. C. participated in activities to strengthen her parenting skills but remained at high risk of losing her children to foster care due to her lack of a safe and affordable place to live with her children. Through the assistance of the BFH Program, she was paired with a housing specialist and given rental assistance. In March of last year, she was given keys to a new apartment that would allow her children to remain with her in a safe space they now call home.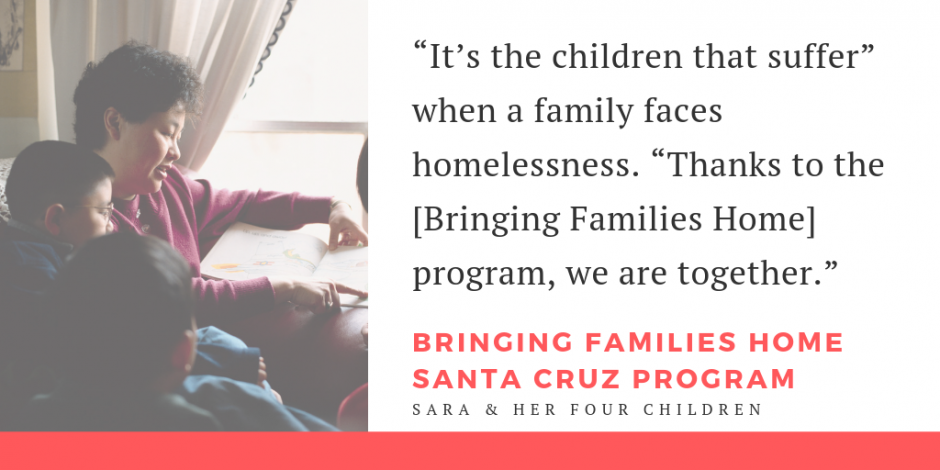 Related Links