CWDA Executive Director Frank Mecca Appointed to Governor's Homelessness Advisory Body
SACRAMENTO – The County Welfare Directors Association (CWDA) is proud to announce that Governor Newsom has appointed CWDA executive director, Frank Mecca along with other statewide experts and local leaders to advise him on confronting the homelessness crisis in California. The group, chaired and co-chaired by Sacramento Mayor Darrell Steinberg and LA County Supervisor Mark Ridley Thomas, will hold convenings around the state in an effort to combat the homelessness epidemic.
"I am honored to have been chosen to join this group of thought leaders and experts and am looking forward to hit the ground running to find solutions that will make real differences in people's lives," said Frank Mecca. "Governor Newsom's announcement today demonstrates a keen understanding that successfully fighting California's complex homelessness crisis will take interdisciplinary coordination, regional collaboration, and focus on early intervention and prevention."
Mecca has served as CWDA's executive director for nearly three decades, leading the organization's advocacy and policy efforts that have shaped programs and services that help California's most vulnerable to thrive. In recent years, CWDA has focused on solutions across our programs that intervene and prevent homelessness in order to support the needs of a growing number of clients facing housing insecurity. A crucial part of the prevention efforts in our programs has been the collaboration with other organizations in the broader homelessness continuum. He also serves as treasurer on the board of the Sacramento LGBT Community Center which has developed and implemented a number of programs aimed at combating homelessness in the LGBTQ community.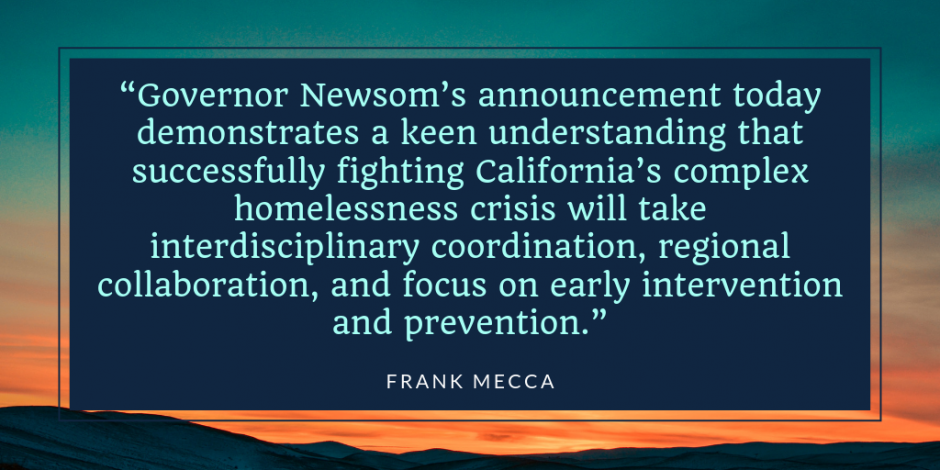 Related Links